I live on the island of Roatan. Donde esta? Roatan is a small island located off the north coast of Honduras in Central America
It is both a Caribbean island and a part of the country of Honduras. We are part of what used to be called "The British West Indies."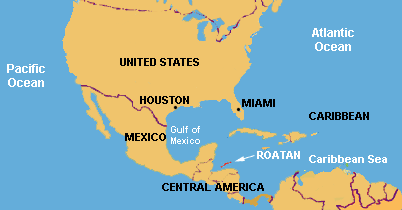 Roatan is approximately 4 mi wide x 47 miles long.
Living here is interesting. We have to do some things differently than in North America or Europe.
Here are the answers to some questions I get about living here:
What is the weather like?
Feb-May Roatan is paradise, 80-90F with a great cool breeze and 60-80% humidity.
June-September is HOT. 90-105F, little to no breeze and 90-100% humidity.
October is similar to March-May.
November-Jan is rainy season. 70-80F. Mostly big heavy tropical rain. Some hurricanes.
(These are my generalized ideas from living here for two years. I am not a meteorologist,  but I do own a weather station which I check like 5 times a day, so I feel qualified to make these statements.)
________________________________________
What type of house do you live in?
I live in a wooden two bedroom house on stilts. We have drywall and textured walls. Our floor is all tile, we would not want carpet here because of the humidity (read: wet and moldy), heat (read: windows open unless there are hurricane like rains), and expanses of open jungle (read: dusty/dirty) carpet would be sick-nasty 24/7. Some people have A/C but most do not. We have a ceiling fan in every room, even the bathroom. We have glass windows and bars on the outside of every window and gates on every door. Most people live in wooden houses on stilts that have no insulation, dirt or wood floors, open windows with wood shutter for security, and no indoor plumbing.
This is the view from my house. I am not complaining.
________________________________________
Do you have a washer and dryer?
I am very blessed to have a washing machine. Most islanders do not have washing machines, but instead wash their clothes on a wash board
 and then line dry. My upper arms have become much more defined from hanging clothes on the laundry lines that are hung between the stilts that hold up our house. I also have a new found love of clothes pins.
________________________________________
Where do you shop for groceries?
We have 4 large grocery stores and many little pulperias (convenience stores) around the island.  We also have fruit and veggie trucks that park at the entrances to communities and you can buy right from the truck. I like to think of them as mobile farmers markets. There is also a large outdoor market in the center of Coxen Hole (our main city) were many locals do their shopping. You can visit the butcher, the broom store, the pot and pan man, the office supply store, the vegetable stand, second hand clothing stores, toy stands, and the coconut oil guy all in one afternoon.
________________________________________
How do you get drinkable water?
Most people get 5 gallon jugs from pulperias or gas stations. You can turn in your empty jug for a full jug or buy a new jug. Water is about $2.50/5 gallons. Many islanders do not have clean drinking water. Many communities would profit greatly from the installation of wells for drinking water. This is a huge expense, so many people go without clean water.
________________________________________
Where do you buy clothing on Roatan?
I do not. Sadly, new clothing here is very expensive and usually of poor quality. We do have a few used clothing stores that are awesome (I am a thrifter at heart) but again, pricey for what you get (which is used US clothing with Goodwill tags still attached, but we pay a higher price than on the tag.) There are no new cotton panties available on the island, and apparently not many bras either. Little girls clothing is very expensive, and there are not many items in the thrifts… so we wait until we are in the US and stock up on shorts, tanks, dresses, and under garments.
________________________________________
What do you do for fun?
We have amazing beaches here on Roatan. Most of our activities are focused on the water. Kayaking, scuba, snooba, playing in the waves, and playing in the sand. But to be honest, when you have a three year old, that can get old quick. Some days my daughter says, "No, I do not want to go floating today." So we will go to the only playground on the island – Wendy's play place. They even have A/C so it is legit.
________________________________________
Wait, you have a Wendy's?
I know, right. Wendy's is the only drive-thru fast food we have on the island. It is over 40 minutes drive from us, but some days the little one needs to climb, so I make the drive for her. And the fries. But sadly, they rarely have frosties… something about not being able to get the mix shipped in. That's part of living on Roatan, if the boat doesn't bring it, we do not have it. We also have 2 Bojangle's/Pizza Inns. They are sit down/carry out only. For you West Coasters/Canadians – Bojangle's is like Kentucky Fried Chicken (only not as good, sorry Bo's, but I must provide an honest report to my readers.)
________________________________________
You're an artist and crafter, where do you buy your supplies on Roatan?
Sad face. I do not. I bring all my supplies in my suitcases or have others bring them back for me in their suitcases. If you read my "about illi" section you will see that I say "I have limited time and limited resources" that is because I am a mom and missionary, but that is also because I use what I have brought in with me. I cannot get a great idea and run out to a craft store and get whatever my heart desires. (A fact which makes my heart sad.) But it does force me to do two things: #1 – be green by using what I have, and #2- choose my products wisely when I am in the US. I won't just buy whatever I see on the shelf in Michael's because if I buy something that turns out to be a bad product I cannot get a back up and it is a total waste of my time/effort/baggage weight/ etc. Therefore I research all my purchases and only buy things that I think will serve me well for a long time and/or do double duty. Crafting in paradise is hard work.
________________________________________
What do you do on Roatan?
I am a missionary on Roatan. My husband and I work with people here by serving needs in the name of Jesus. For example, my husband is a Pastor of a local church (a huge job in itself), he teaches a free computer class one night a week, and he volunteers two days a week at Gumbalimba Park where there are monkeys, macaws, snooba, scuba diving, and kayak tours. I volunteer with a local women's sewing group, Stitches of Love, who make bags for a fair trade price and we sell them on the island and in the US.
________________________________________
What gifts do locals take to friends and family in other places?
For those of us who live here on Roatan, we know that not many of the souvenirs available here are actually made here. When someone who lives here buys a gift to take back to their family in the US, Canada, or Europe, we like to choose things that are made on island because that ensures that families on Roatan are being fed. Rusty Fish metal art has something for everyone, Britteny Bennett is a local island artist who creates amazing island paintings, and of course Stitches of Love bags are always a hit. Another amazing source is Made In Roatan – an artist co-op that showcases the talents of multiple artists and jewelry crafters from around the island at fair trade prices. If jewelry and art are not what you are looking for, then do not discount the awesome find at the local grocery store: huge bottles of real vanilla extract that would sell for $20 in the US are only $2 here – I know professional bakers who say it is the best they have ever had. Also, Roatan Marine Park sells reusable grocery bags made of recycled material such as banners. They are $4 and $2 (depending on style) at Plaza Mar grocery store in Coxen Hole. They are super sturdy and support a great cause – keeping our beautiful beaches and oceans clean.
for more information on my experience in Roatan, click here.
Do you have a question about Roatan? Leave a comment below and I will answer you back.
(Photos courtesy of: roatan.net, roatanisland.net, and Wendys.com)